Friday, July 1, 2011
6:00 AM | Posted by Unknown |
|
Edit Post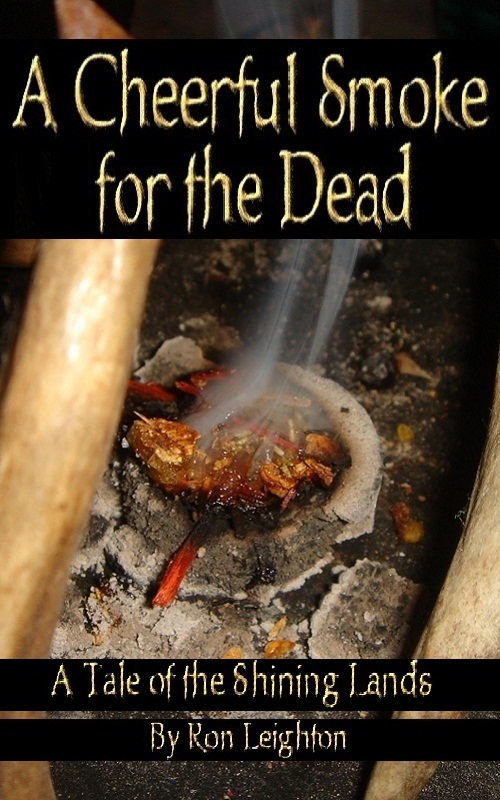 Reviewed by Sarah Porter-Pennington
Title:
A Cheerful Smoke for the Dead
Author: Ron Leighton
Publisher: Self
Genre: Science Fiction & Fantasy
Recommended: Maybe
Review:

I was so relieved when I got to the last page of this book and found out it was part of a larger book.
All through this 21-page e-book, I was wondering if I was missing something—and it turns out I was. I'm missing a whole book's worth of background information that makes this story relevant.
Don't get me wrong, the story line of this book sounds great, but there's so much that left me confused.

The story starts with a one-paragraph scene that could either be a vampire attack or a sex scene. A pointless scene, that it seems was only placed to draw interest and encourage readers to flip to the next page.
Then the story flashes back to a week before, when the main character goes to the market and purchases a cake of incense from a priest of Orotar. (I wish I knew more about what a priest of Orotar is…and maybe what their religion is like? Then the story might make more sense.) The priest says the smoke of the incense will send the dead to peace, which convinces the main character, Nathaiu to buy a cake. Not having enough money, the priest gives the cake to Nathaiu, who intends to use the cake to send his parents' souls onto peace.

When he returns home to use the incense cake at his evening prayers, per directions of the priest, Nathaiu blacks out. The next day he discovers that the incense has turned him into a vampire.
The story lacks details that could really make this tale interesting, though it does have some really gruesome scenes that are reminiscent of Stephen King and Anne Rice. I'd love to read the full book, just to figure out what's going on…since this book is only a teaser of what's to come and leaves out details I'm sure make the story more relevant.
Get Reviewed!

Facebook Badge

Our Reviewers
Blog Archive

Labels
127 Hours
(2)
2010's best
(2)
2010's Best Computer Product Review
(3)
2MOS
(1)
9 by design
(2)
A Beautiful Mind
(1)
A Cheerful Smoke for the Dead
(1)
A Pack Rat Story
(1)
a thousand splendid suns
(2)
AARON JOHNSON
(1)
Abundance for Life Mindfest
(1)
acne
(1)
action
(1)
Adventure
(1)
Adventures of Rusty and Ginger Fox
(1)
aerobed
(1)
Aggie Villenueva
(1)
airbed
(1)
alarm clock app review
(1)
Alec Baldwin
(1)
Alexander McQueen
(1)
Alice in Wonderland Review
(1)
All Things at Once
(1)
Alpha
(1)
Alternatives Journal
(1)
Alvin and the Chimpunks
(1)
Alvin and the Chipmunks: The Squeakquel
(1)
Alyssa Ast
(34)
Alzheimer's disease
(1)
amanda seyfried
(1)
Amazon Kindle
(4)
Amelia Bedelia
(1)
American Idol
(1)
android phone
(1)
android sprint
(1)
Angela Atkinson
(6)
Angelina Jolie
(2)
anger
(1)
Animation
(1)
anna christiansen
(3)
Anne Boleyn
(1)
anthology
(1)
anti-microbial
(1)
Arizona
(1)
artificial christmas tree
(1)
Arts
(3)
Ask me no questions
(1)
Assumptions
(1)
Asus Eee PC Netbook
(1)
Audrey Niffenegger
(1)
Avatar
(1)
Aveeno Baby lotion
(1)
babies
(3)
Baby Bee
(1)
baby bottle
(1)
Baby carriers
(1)
Baby Jogger
(1)
baby product review
(4)
back pain
(1)
Back-up Plan
(1)
Badass
(1)
Bakery on Main
(1)
baking
(2)
Bansky
(1)
Barack Obama
(1)
Barnes and Noble membership
(1)
Bassinet carriers
(1)
BBC Active
(1)
BBQ
(2)
BBQ rub
(2)
beauty
(8)
beauty product review
(11)
Beauty salon
(1)
bedding
(1)
Beeswax
(1)
Bella
(3)
Bella Vi
(1)
Bella Vi Insane Amp
(1)
belly fat
(1)
Ben Affleck
(1)
best films 2010
(2)
best movies of the year
(1)
Beth Ann Masarik
(1)
Betty Crocker Slow Cooker
(1)
beyond beautiful babe
(11)
birth
(2)
birth announcement
(1)
Bissell proheat
(1)
Bissell ProHeat 2X Deep Cleaner
(1)
Bitch: In Praise of Difficult Women
(1)
BJ's Wholesale Club
(1)
Black Adder
(3)
Black Decker
(1)
BLOG WRITERS
(2)
BLOG2PRINT
(1)
BLOGGER
(1)
bloggers
(3)
blossoms of the lower branches
(1)
Blowdryer
(1)
board game
(1)
Bone folder
(1)
book marketing
(1)
book review
(82)
Book Review: At Home with Handmade Books
(1)
Book Review: Behind The Green Glass
(1)
Book Review: Kaptain VAmp
(1)
Book Review: Lakebridge Spring
(1)
Book Review: Midnight Sin
(1)
Book Review: The Tapestry Of Love
(1)
Book Review: Two Moons Of Sera
(1)
Book Review:LS: The Beginning
(1)
Book reviews
(19)
Bookmaking
(1)
books
(9)
books on business
(2)
books to help your career
(1)
Bravo
(1)
bread box
(1)
Brenden Theatres
(1)
Brian Helgeland
(1)
brookehaven vampires
(2)
Brothers Grimm
(1)
brownies
(1)
bullies
(1)
bunk bed
(1)
business advice
(1)
Business Review
(1)
Caesar
(1)
Cairo
(1)
cake decorating
(2)
cake pan
(1)
camera review
(2)
Cameron Atkinson
(1)
Cameron Diaz
(2)
Campbell California
(1)
Canadian author
(1)
car seat covers
(1)
caribou
(1)
carpet cleaner
(1)
Carpet Cleaner Product Review
(1)
Cassandra Clare
(1)
cat toy
(1)
Cate Blanchett
(1)
Catherine Cookson Fiction Prize
(1)
catnip
(1)
cats
(1)
Celestial Seasonings Sleepytime Tea
(1)
Cell Phone
(4)
Cell Phone Review
(2)
chapstick fresh effects
(1)
Charlaine Harris
(2)
Charles G. Timm
(2)
Charlie Watt
(1)
Charlotte Abel
(1)
cherry-ann carew
(1)
chicken
(1)
child product review
(2)
child toy product review
(4)
children
(3)
children's book review
(3)
Children's literature
(10)
children's movie review
(2)
childrens book review
(3)
Chloe Waits
(1)
Chris Griffiths
(1)
Chris Keys
(1)
Christina Newman
(26)
Christine Gatuiria
(3)
Cindie Miller
(1)
City Select
(1)
clarifying
(1)
cleaning
(1)
Cleopatra
(1)
climber
(1)
Clockwork Angel
(1)
cloth diaper
(1)
coffee
(2)
Cognitive distortion
(1)
color
(1)
colour
(1)
comedy
(3)
coming of age
(1)
competition
(1)
Computer Hardware Reviews
(1)
Computer Software Review
(1)
conditioner
(1)
Conditions and Diseases
(1)
conformism
(1)
Conrad J Storad
(1)
cookbook
(3)
Cornwall
(1)
cosco beep beep walker
(1)
cosmetics
(3)
cough syrup
(1)
coupons
(1)
courage
(1)
cracking the colour code
(1)
cradle cap
(1)
crafts
(1)
Crayola
(1)
Crayons
(1)
Crazy Love
(3)
create-a-scene
(1)
Creative Writing Now
(1)
crime
(1)
CSN stores
(5)
cupcake
(1)
D.E. Moore
(4)
dance
(2)
dancing in your bubble
(1)
Darcia Helle
(1)
Date Night
(1)
Dave Eggers
(1)
Dave Gray
(1)
David Morrissey
(1)
Dawn Kempf
(1)
dawne prochilo
(34)
Dead Until Dark
(1)
Delilah
(1)
Dell Vostro
(1)
Delsym
(1)
deluxe seat solution
(1)
Denise Bertacchi
(4)
Denzel Washington
(1)
dermanew
(1)
desert essence
(1)
Desert Night Shift
(1)
Design
(1)
detangling brush
(1)
Diabetes mellitus type 2
(1)
Diaper Rash
(1)
dining rooms direct
(2)
dirt devil
(1)
Dirt Devil Extreme Quick Vac
(1)
Disney
(1)
documentary
(2)
Does This Clutter Make My Butt Look Fat
(1)
Does This Clutter Make My Butt Look Fat?: An Easy Plan for Losing Weight and Living More
(1)
double gussets
(1)
double jogging stroller
(1)
doug
(1)
doumentaries
(1)
dragon dictation
(1)
dragon dictation app
(1)
drop leaf table
(1)
Dry Erase Crayons
(1)
Dust jacket
(1)
DVD
(1)
DVD Review
(7)
E-book
(2)
easy reader
(1)
ebook
(2)
Eclipse
(1)
Economic
(1)
economics
(1)
educational product review
(1)
egg ring
(1)
Egypt
(1)
Eight O' Clock French Roast Whole Bean Coffee
(1)
Elaine Fischel
(1)
Electrolux Home Care 166DX4 Super Broom Vacuum
(1)
electronics review
(2)
Elements of the Soul
(1)
ELIZABETH BARD
(1)
Elizabeth Wurtzel
(1)
English Grammar
(1)
Entrepreneur
(1)
environment
(1)
environmentally friendly
(1)
Erdlander
(1)
Eric Bana
(1)
ERIK LARSON
(1)
Erin Healy
(1)
Erin Zamrzla
(1)
erotic
(3)
Exit
(2)
extreme quick vac
(1)
Eyebrow
(1)
ez sox
(1)
F. Haywood Glenn
(1)
facebook
(2)
facial
(2)
facial cleanser
(1)
facial scrub
(1)
family
(3)
Fantasia
(1)
fantasy
(1)
farm toys
(1)
fashion
(3)
fear
(1)
feminist
(1)
ferrets
(1)
fiction
(5)
Fiction Boot Camp
(1)
film review
(1)
Final Exam
(1)
fish
(1)
fitness equipment review
(1)
flat panel TV stand
(1)
Flip video camera
(1)
flowers
(2)
Food
(1)
Food chain
(1)
food product review
(10)
Forest Gump
(1)
fragrance
(1)
FRANCE
(1)
Frank Mahovlich
(1)
Frank's RedHot Sauce
(1)
Franklin Speaking Spelling Bee
(1)
free samples
(1)
freelance writer
(3)
Freelancer
(1)
FRENCH CULTURE
(1)
fresh cut fundraising flowers
(1)
Friendship
(2)
fun
(1)
fundraiser review
(1)
furniture
(1)
G. Willow Wilson
(1)
gadget
(1)
Gail Gaymer Martin
(1)
game review
(1)
GAMESTORMING
(1)
Gamestorming: A Playbook for Innovators Rulebreakers and Changemakers
(1)
garden
(1)
gardening product review
(1)
Garnier
(2)
garnier fructis style surf hair
(1)
gasland
(1)
Gatorade G2
(1)
Gazelle Edge Trainer
(1)
GE Profile Front Load Washer
(1)
Genetically modified organism
(1)
George Clooney
(1)
ghosts
(1)
Gingerbread Cookie Murder
(1)
Gladiator
(1)
GoGo aqueez applesauce
(1)
gogreendiapers
(1)
golden griddle syrup
(1)
Good Hair Day
(1)
Gratis
(1)
Gretzky
(1)
grocery items
(1)
Grove Press
(1)
Guardian Anti-Bark Collar
(1)
guide
(1)
Guitar
(1)
Hair
(3)
hair care
(5)
Hair iron
(2)
hair product
(1)
hair product review
(1)
Hair straightening
(2)
Hallowe-en Read
(1)
Halloween
(1)
hammocks
(1)
Handmade Books
(1)
Hannah
(1)
Hardware
(1)
harriet carter
(1)
Harry Mulisch
(1)
Harry Potter
(1)
Harvestland Boneless
(1)
Haven Kimmel
(1)
HBO
(2)
Health
(7)
health and beauty
(4)
Heather Hepler
(1)
Heidi Klum
(1)
Henry VIII
(1)
Her Fearful Symmetry
(1)
Historical fiction
(1)
Historical Romance Novel
(2)
history
(1)
HISTORY BOOK REVIEW
(1)
Hitler
(1)
Hobby Craft
(1)
Hockey
(1)
Hollywood
(1)
holy wars
(1)
Home Product Review
(2)
household
(1)
household product review
(6)
how the fierce handle fear
(1)
how to lose belly fat fast
(1)
How to Train Your Dragon
(1)
HTC Evo Shift
(1)
humor
(2)
hypoallergenic
(1)
Ice Tea
(1)
Illustrator Amy Rottinger
(1)
Iman
(1)
impeachment
(1)
in step safari
(1)
IN THE GARDEN OF BEASTS
(1)
Inception
(1)
incolor lip glosses
(1)
inflatable bed
(1)
inflatable mattress
(1)
Insane Amp
(2)
Inspiration 9
(1)
Intel Core
(1)
Intel Corporation
(1)
intimate
(1)
iPad
(1)
iPad Apps
(3)
iPhone
(2)
iPhone apps
(3)
iPod
(1)
Isaac Mizrahi
(1)
Isabella Blow
(1)
Island
(1)
It's Complicated
(1)
Italian
(1)
James Franco
(2)
Jane Turner
(3)
Janet Evanovich
(2)
Japan
(1)
Jean C Joachim
(2)
Jennifer Garner
(1)
Jennifer Lopez
(1)
Jennifer Weiner
(1)
Jesse Metcalfe
(1)
Jo Ramsey
(1)
joann martin sowles
(1)
Joanne Fluke
(1)
JoAnne Kenrick
(1)
Joanne Lecuyer
(1)
Jodi Olson
(1)
Jodi Picoult
(1)
JOHN LENNON
(1)
John Robbins
(1)
Jon Scieszka
(1)
Jonah Hill
(1)
Jorge Calderón
(1)
josh fox
(1)
Journal - Record
(1)
Ju Duoqui
(1)
Juicer
(1)
Juicer Review
(1)
Julia Baird
(1)
Just Food
(1)
Justin Bieber
(1)
Karl Lagerfeld
(1)
Katrina
(1)
Kay Springsteen
(1)
Keith Richard
(1)
Kelvin O'Ralph
(1)
Ken Haedrich
(1)
Kerrie McLoughlin
(11)
Kevin Henkes
(2)
khaled hosseini
(2)
kid stuff
(5)
Kingman
(2)
Kingman Dance Factory
(1)
Kitchen Basics Oil Sprayer
(1)
kitchen gadget
(2)
Kitchener Reviewer
(2)
Knight and Day
(1)
knot genie
(1)
Koala Climber
(1)
Kombucha
(1)
Kristin Scott Thomas
(1)
L'Oreal double extend mascara
(1)
labor and delivery
(1)
Laptop
(1)
Larry Beason
(1)
Larry Winget
(1)
laughter
(1)
laundry detergent
(1)
Laura Ast
(11)
Laura Levine
(1)
Law of Attraction
(1)
Lee West
(1)
Leonardo DiCaprio
(1)
Leslie Meier
(1)
Let the Right One In
(1)
leukemia
(1)
LG
(1)
LG optimus S
(1)
Liar's Club
(1)
Lifetime
(1)
Liliana Badd
(2)
Limited liability company
(1)
Linda Franklin
(1)
lip balm
(1)
Lipton
(1)
Liquid crystal display
(1)
Lisa McClung Photography
(1)
literature
(5)
litter box
(1)
Little Earthquakes
(1)
Little White Rabbit
(1)
Lombardo's
(1)
Longing for December
(1)
Loren Long
(1)
Lori Langille
(1)
Louis C.K
(1)
love
(2)
love story
(1)
Lua
(1)
lumbar
(1)
LUNCH IN PARIS
(1)
Lytro
(1)
M. Night Shyamalan
(1)
M/M
(1)
Macys
(1)
magic
(1)
Magic Leverage
(1)
magnetic toy sets
(1)
MAKE A BLOG BOOK
(1)
Maple Syrup Cookbook
(1)
Maria Shriver
(1)
Mariana
(1)
Marina DelVecchio
(7)
marinara sauce
(1)
Mario Kart
(1)
Mario Kart Nintendo 64
(1)
Mario Kart Nintendo Wii
(1)
Mark Lester
(1)
Market
(1)
Market economy
(1)
marketing
(1)
Markets
(1)
marriage
(1)
Martha Stewart
(1)
Mary Karr
(1)
Mary Oliver
(1)
mascara
(1)
Matt Greenhalgh
(1)
Matthew Robinson
(1)
Maurice Richard
(1)
Maya Angelou
(1)
Meg Cabot
(1)
melissa
(1)
Melissa and Doug
(1)
memoir
(3)
memorial day
(1)
Mental Health
(1)
Michael Buble
(1)
Michael Tabman
(1)
Michaels
(1)
Mick Jagger
(1)
Mika Brzezinski
(1)
Mind Maps for Business—Revolutionise your business thinking and practice (2010)
(1)
miracle-gro
(1)
Modern Family
(1)
Monique O'Connor James
(1)
Monsanto
(1)
moon sand
(1)
Moonlit Nights
(1)
Motherhood
(3)
Motorola Droid
(1)
movie review
(21)
Movie Reviews
(7)
Movies
(3)
Movies Worst
(1)
Mumbai
(1)
music review
(2)
Muslim
(1)
Muslim Brotherhood
(1)
my carry potty
(1)
My Sister's Keeper
(1)
mystery
(1)
Nancy Balbirer
(1)
Natalie Porter
(1)
Natasha Troop
(1)
National Poetry Month
(1)
natural
(1)
negative review
(1)
Newbery author
(2)
Nickelodean
(1)
Nicola Ross
(1)
Nike
(1)
Nike+
(1)
Nile
(1)
Nintendo WIi
(1)
Nixon
(1)
no heat hair rollers
(1)
Non-aerosol Oil Sprayer
(1)
non-fiction
(4)
North Carolina
(1)
Novel
(1)
Novella
(2)
NOWHERE BOY
(1)
NUK/Gerber Infant Starter Bottle Set
(1)
Nuremberg Trials
(1)
Nutrition Month
(1)
Nutty Cranberry Maple Granola
(1)
O Magazine April 2011
(1)
O'Keefe's Working Hands
(1)
Of Thee I Sing: A Letter to My Daughters
(1)
Officer why dont you adopt him
(1)
oh shit factor
(1)
ointment
(1)
Old Bear
(1)
Omega
(1)
OmmWriter Dana I
(1)
OmmWriter for Mac
(1)
Online and offline
(2)
online shopping
(1)
Oprah Winfrey
(1)
organic
(1)
organization
(2)
orthopedic
(1)
Oscars
(1)
Oxiclean
(1)
OxiClean Triple Power Stain Fighter
(1)
P-A-McGoldrick
(7)
P.A. McGoldrick
(6)
Pad
(1)
Pam Houghton
(19)
Pamela Rice Hahn
(1)
Paranormal
(3)
parenthood
(2)
parenting
(3)
parents
(4)
Paris
(1)
Patricia Anne McGoldrick
(26)
Patricia-Anne-McGoldrick
(2)
PAUL MCCARTNEY
(1)
Pavarti K. Tyler
(1)
Perfect Score
(1)
perfect storm
(1)
perler beads
(1)
pet brush
(1)
pet brushes
(1)
pet product review
(4)
pet products
(1)
Peter Walsh
(1)
pets
(1)
petsafe simply clean
(1)
PetSafe. pet products
(1)
Phunny Stuph
(1)
picnic
(1)
Pinkalicious
(1)
Pinkalicious Reviews
(1)
plant food
(1)
play
(1)
playground
(1)
Poetry
(1)
Poetry Month
(1)
POETS AND WRITERS 40
(1)
pork
(1)
positive reviews
(2)
potty training
(1)
preemie. NICU
(1)
preemies
(1)
pregnancy
(3)
premature babies
(1)
premature infant
(1)
president
(1)
Princess Diaries
(1)
Priscilla Long
(1)
Product review
(24)
Product Reviews
(1)
professional cake decorating
(1)
Project Blissful
(1)
Project Runway
(1)
proofreading
(1)
psychiatry
(1)
publish
(1)
Publishing
(4)
PUL
(1)
Pureleaf
(1)
pureology shampoo
(1)
puzzle
(1)
puzzle game
(1)
Quaker Life Nutrition bars
(1)
quaker oats
(1)
quaker oats classic recipes
(1)
Quiet
(1)
Qwik Shower
(1)
Rachael Ray
(1)
radio
(1)
rango
(1)
rao's homemade marinara sauce
(1)
rats
(1)
Raymond Briggs
(1)
RCA digital voice recorder
(1)
RCA VR5220 512 MB Digital Voice Recorder
(1)
rebecca guevara
(1)
Rebecca McClanahan
(1)
Recommended
(2)
red box
(1)
red riding hood
(1)
Redken Guts Volume Spray Foam
(1)
reference book review
(1)
relationships
(1)
Religion
(1)
Restaurant Review
(1)
Review
(5)
reviews
(2)
Revolutionary Road
(1)
Richard Peck
(1)
Richard Yates
(1)
Ricky Gervais
(1)
Ridley Scott
(1)
RnB music
(1)
Robert A. Hastings
(1)
Robin Hood
(1)
Rolling Stones
(1)
romance
(8)
Romance Divine
(1)
romantic comedy
(1)
Romantic Novel of the Year
(1)
ron leighton
(1)
ron mclarty
(1)
Rosy Thornton
(1)
rubbabu
(1)
Rumor
(1)
running
(1)
Russell Crowe
(1)
Ruth Reichl
(1)
Sacrifices In The Name of Love
(1)
safari self-cleaning slicker brush
(1)
safety
(1)
Sam Taylor Wood
(1)
sarah l. melville
(1)
sarah porter pennington
(1)
Sarah Porter-Pennington
(8)
SATC
(1)
Scarlett Johanssen
(1)
scheduler
(1)
Schiffer Press
(1)
science fiction
(1)
Scotland
(1)
seat cushion
(1)
seat wedge
(1)
self-help
(5)
self-help book review
(1)
self-publishing
(2)
Selina Fugate
(1)
SEM
(2)
sensor
(1)
SEO
(2)
serial killers
(1)
service review
(3)
Sewing
(1)
Sex and the City 2 review
(1)
Sexy Boot Jeans from The Gap
(1)
shampoo
(2)
Shannen Doherty
(1)
shantaram
(1)
shark steam pocket mop
(1)
Sharon Poppen
(1)
shelia burket
(1)
shoes
(1)
Shopping
(3)
shopping cart cover
(1)
shopping for strollers
(1)
short story
(1)
Shriya Saran
(1)
Sidney Crosby
(1)
Sierra Michaels
(1)
Simple Singer
(1)
Singer
(2)
Sippy Cups are not for Chardonnay
(1)
sirius/xm satellite radio
(1)
Skinless Chicken Breasts
(1)
Skinny Ms. Slow Cooker
(1)
slide
(1)
Slow Cooker
(2)
small animal supplies
(2)
Small space container gardens
(1)
Small Wonder
(1)
Smart Alarm Pro
(1)
Smashwords
(2)
smethport
(1)
snow globe maker beach app
(1)
Snow Trucking
(1)
snowglobemaker.com
(1)
Soap opera
(1)
Social Media Platform
(1)
social network
(1)
sock-aid for adults
(1)
Sony
(1)
Sookie Stackhouse
(2)
southern vampire mysteries
(1)
spiral curls
(1)
sport product review
(1)
sportband
(1)
Sprint
(1)
Stacey Celaya
(15)
stacking train
(1)
starbucks
(1)
steak
(2)
Stefanie Wilder- Taylor
(1)
Step2
(1)
Stephanie Meyer
(1)
Stephanie Stevens
(12)
Steve Pavlina
(1)
storage
(1)
stretch marks
(1)
Strollers
(1)
Sualwet
(1)
suburbs
(1)
sudoku
(1)
Sunni Brown
(1)
Sunny Days
(1)
super heros
(1)
Supernatural
(1)
supernaturals
(1)
Susan Bates Smartglo crochet hooks
(1)
susan beth pfeffer
(1)
Susan LaScala
(1)
Susan Roebuck
(4)
Susanna Kearsley
(2)
suspense
(1)
suspense novel
(1)
sustainability
(1)
Sweden
(1)
Sylvia Massara
(1)
Table of Contents
(1)
Tablet computer
(1)
Taqiyyah Shakirah Dawud
(12)
tea latte
(1)
television
(2)
television series
(5)
Tenderness
(1)
teri j dluznieski
(1)
text processor
(1)
The American
(1)
The Asking
(1)
The Assult
(1)
THE BEATLES
(1)
The Blue Kangaroo (It's Nice to be Different)
(1)
The Business of Being Born
(1)
The Everything Improve Your Writing Book
(2)
The Fashion Show
(1)
The Fundamentals of SEO for the Average Joe
(2)
the girl with the dragon tattoo
(1)
The Hockey News
(1)
The Infernal Devices
(1)
The Keepers
(1)
the kite runner
(2)
The Last Airbender
(1)
The McGraw-Hill Handbook of English Grammar and Usage
(1)
the memory of running
(1)
The Middle
(1)
The Mortal Instruments
(1)
The Other Boleyn Girl
(1)
The Other Boyfriend
(1)
The Other End of the Line
(1)
The Power of a Poem
(1)
The Renegade Writer's Query Letters that Rock
(1)
The Rewritten Word: How to Sculpt Literary Art no Matter the Genre
(1)
the roommate
(1)
The Rose Garden
(1)
The Serialist
(1)
The Snowman
(1)
The Social Network
(1)
The Tourist
(1)
The Tudors
(1)
The Vance Legacy
(1)
The Winter Sea
(1)
the wm review connection
(15)
The World Among Us
(1)
Theatres
(1)
therapeutic
(1)
Thermic effect of food
(1)
Thermogenesis
(1)
Tiffany Jansen
(4)
Tim Burton
(1)
Tim Gautreaux
(1)
Tim Ostermeyer
(1)
Tina Fey
(1)
toba garrett
(1)
toddler
(1)
toddlers
(1)
Tom Cruise
(2)
Tone and tighten
(1)
Tony Buzan
(1)
Tony Scott
(1)
top 3 movies
(2)
top films
(1)
toy cars
(1)
toys
(2)
train
(1)
training sock for children
(1)
trains
(1)
travel book
(1)
Travel Secrets
(1)
tresemme fresh start dry shampoo
(1)
Trish
(1)
True Blood
(2)
TV review
(1)
TV show review
(1)
Twilight
(1)
twilight eclipse
(1)
twilight saga
(1)
twins
(1)
Twitter
(1)
TYPEPAD
(1)
ugly
(1)
Ultimate Body Wrap
(1)
United States
(1)
Upcycling
(1)
Valentine's Day
(1)
Valkyrie
(1)
Vampire
(1)
vampires
(6)
Vanessa Johnson
(1)
Victoria Kann
(1)
victoria's secret
(1)
video camera review
(1)
VIRGINIA JOHNSON
(1)
Vogue magazine
(1)
volume 1
(1)
W.S. Merwin
(1)
walking
(1)
Wally Lamb
(1)
war
(1)
washing machine
(1)
Webcam
(1)
Website
(1)
Weight Loss
(3)
weight loss supplements
(1)
West Virginia
(1)
When A Mullo Loves A Woman
(1)
Wi-Fi
(1)
William Morrow
(1)
William Morrow and Company
(1)
wine. Mommy Juice Wine
(1)
Winnie the Pooh
(1)
wipes
(1)
wm network
(2)
WM REVIEW CONNECTION
(1)
women
(2)
women in film
(1)
women in music
(1)
Women in the bible
(1)
women's fiction
(1)
wooden toys
(1)
WORDPRESS
(1)
Working Moms
(2)
Worst Movies 2010
(1)
Writer
(1)
writer mama
(1)
Writer Resources
(1)
writer voice
(1)
writers
(3)
writing
(6)
WWII
(3)
www.newbielifeline.com
(1)
You're Broke Because You Want To Be
(1)
young adult
(6)
young love
(1)
Young-adult fiction
(3)
Zeitoun
(1)
Zelig
(1)
Zinio Reader 4
(1)
Zippy
(1)